Sunbrella Rain Waterproof Performance Fabric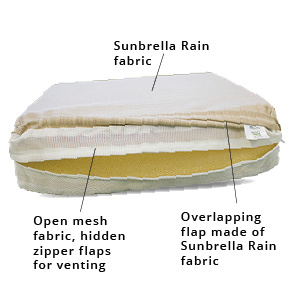 Quick-Dry Cushions That Dry Within Minutes
Patio Lane, an official Sunbrella partner, is a certified Sunbrella Rain Cushion Manufacturer. Since 2003, we have been working with hospitality providers to provide quality Sunbrella cushions.
Sophisticated Solution for Quick-Dry Sunbrella Cushions
Introduced in 2016, Sunbrella Rain fabric combines the traditional Sunbrella performance fabric with a waterproof coating that when manufactured using special techniques such as self-swelling thread and multiple moisture vents, repel moisture and become usable for hospitality guests within a few minutes.
SUNBRELLA RAIN COMPONENTS
Fabric
30+ Sunbrella Rain patterns to choose from with more selections available for large quantity projects
Cushioning
Dry-Fast foam is recommended
Seams/Sewing
Aqua Seal, self-swelling thread to seal stitch holes
Secondary Moisture Flap
Hidden, internal secondary zipper with mesh panel, to allow for air venting and added moisture protection
Features/Benefits
Immediately dries after rain. Simply wipe off the surface moisture
Upgraded comfort compared to using a vinyl fabric
Luxury waterfall-style design
Upgraded Dry-Fast foam
Considerations
Sunbrella Rain fabric, by itself, does not make a waterproof, quick-dry cushion. Only those certified and trained by Sunbrella, in the required specialized manufacturing technique of Sunbrella Rain, will be guaranteed to produce this type of quality cushion. Also, adding welt is not an option, as it encourages moisture penetration to the surrounding fabric areas.
Keep in mind that while Sunbrella Rain cushions are meant to be moisture controlled, as well quick drying, we cannot guarantee they are waterproof. We've taken every precaution by using specialized water-absorbing thread to keep moisture out of the cushions; however, even though the actual Sunbrella Rain fabric is waterproof, once we put holes in it during fabrication, there's always an opportunity for moisture to penetrate inside the cushion. If moisture does penetrate the cushion, standard polyurethane foam will act like a sponge and absorb it, taking much longer to dry than our EZ dry foam. With EZ dry foam, if water does penetrate, the cushion will dry within 20-30 minutes versus hours or days depending upon the weather.
Contact Information
OutdoorFabricCentral.com
10820 US 19 North
Clearwater, FL 33764
Local: 1.727.597.4134
support@outdoorfabriccentral.com
Contact Form: Click Here
Office Hours:
Monday - Friday 9:00am - 4:00pm EST
Saturday & Sunday CLOSED
Showroom Hours:
Monday-Friday 8:30am - 4:30pm EST
Saturday BY APPOINTMENT ONLY
Sunday CLOSED